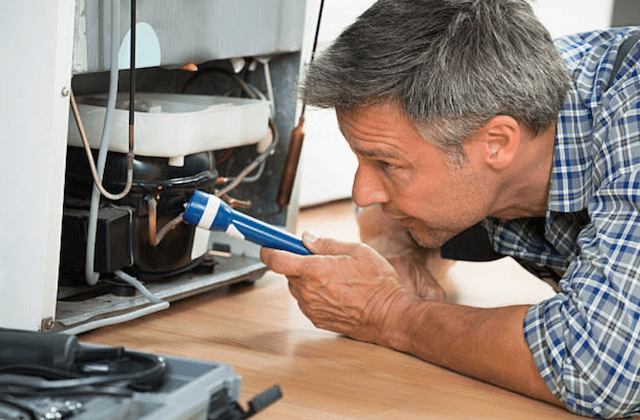 Chico Appliance Repair is privileged to serve the residents around Butte County, CA and the Chico community. Being a family owned company, our main agenda is to focus on the needs of our customers in terms of appliance repair. When carrying out our business, we try to make sure that we win the trust of our customers for our business as well as theirs'.
Before employing our technicians we make sure that they go through thorough training in appliance repair for them to gain expertise in this field. This is a reason enough for you not to doubt our services but instead be assured that your appliances are in good hands. Through these training, they have also learned how to handle all types of brands and models of household appliances including the newer models.
Our main purpose is ensure that your appliances are repaired the same day that you ask for our services. This is because we understand that these appliances are of great importance around your home. As such, we will ensure that your appliances such as the washers, refrigerators stoves, dryers as well as oven are running again the same day that you ask for our services.
Sub-Zero, Frigidaire, Samsung, Kenmore, Whirlpool, LG, Sears, Maytag, Kitchen Aid and Wolf are some of the brand appliances that we take care of at Chico Appliance Repair. Before setting out for our daily repair services, we make sure that our vans are loaded with all the necessary manufacturer parts that are required for appliance repair. Additionally, we offer a 12-month warranty for our services to guarantee our services.
SERVICES IN CHICO, CA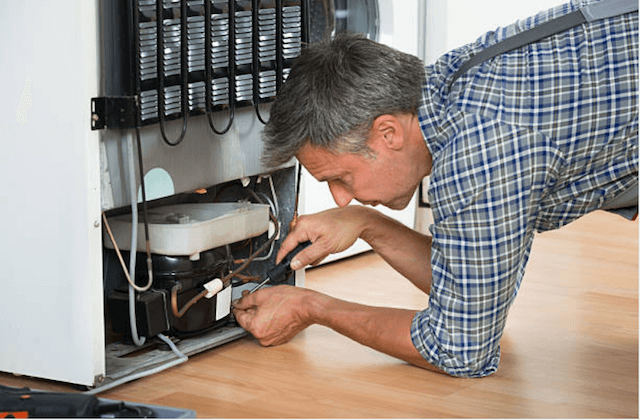 Refrigerators are bound to break down as long as they are put into a lot of use. When they break down, they need to be fixed and be able to run again as before. We repair several parts of the refrigerators and refrigerator related issues such as cooling issues, smart technologies, water dispensers, condensation, leaks, water dispensers, loud noises and touch panels among many other problems. We will keenly identify all the problems in your refrigerator and repair them as soon as possible.
Many calls that we get from our customers are related to stove/ oven issues. We take care of stoves and range hoods. In addition, we fix both gas and electric models as well as all issues related to the igniters, switches, doors, burners, relays and bulbs just to mention a few. Our company is equipped with all the necessities required for repair. Also, our technicians are trained to handle stoves and ovens including the new models.

With tight schedules and busy days, it is difficult to sort out piles of laundry by hand. This is why you need a washing machine to help you save time and energy. However, the washers and dryers are bound to break down just like other machines and they will need to be fixed for them to run again. Luckily, if you reside in Chico, you are lucky to have an appliance repair company that offers the same-day repair services. Some of the issues that we solve in the washers and dryers are noise, vibration, front-and top-loading machines, agitation, doors and switches.
Common dishwasher problems include cloudy glassware, float switches, solenoids, impellers, pump assemblies, odors and other parts. We repair these issues within the shortest time possible. This is because we are trained and skilled in dishwasher repairs. All you need to do is to call us and ask about our services. Also, the issues mentioned above also prevent the dishwasher from drying dishes after a cycle.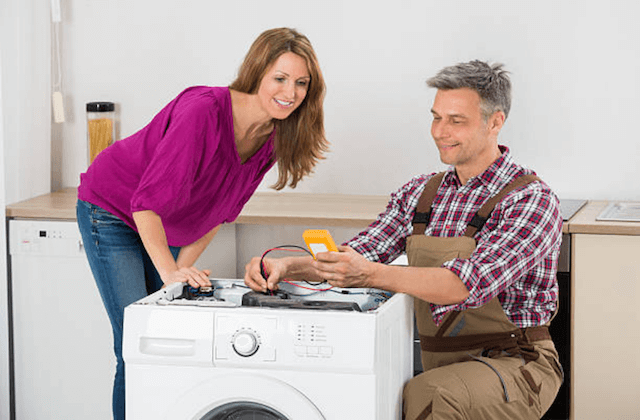 CUSTOMER REVIEWS
"I was very impressed with the professional service I received from Chico Appliance Repair. The repairman was very nice and he figured out the problem with my dishwasher very fast. And fixed it too, of course! I will definitely use again when needed." – Georgia L.
"I never leave reviews but I just had to this time. Great service from Chico Appliance Repair! I've lived here for over 20 years and this is definitely the best appliance repair company in Chico in my opinion." – Peter C.
"You definitely should call Chico Appliance Repair if you have a broken appliance. Their prices are very affordable and the repairmen are very professional." – Kevin L.
APPLIANCE REPAIR FAQ
Q. I HAVE A BROKEN APPLIANCE AT HOME SHOULD I REPAIR OR REPLACE IT?
A. Each time an appliance breaks down, you are left with two options to weigh and choose the most suitable. These options are either to replace that broken appliance or hire repair services. Nonetheless, your machine will determine the best choice through the extent of the damage.
All appliances are built with the approximate timeframe they should offer their services. Thus, if your appliance breaks down in its early stages, hire repair services to take care of your appliance. On the other hand, if your appliance breaks down in its late stages of life you can replace it with a new one depending on the extent of the damage.
You can look at the list below for the average lifespan of every single household appliance:
Dishwasher: 10 years
Washer: 11 years
Dryer: 14 years
Refrigerator: 15 years
Gas ovens: 15 years
Electric stoves: 15 years
Freezers: 15 years
Q. AM I ASSURED OF GETTING A WARRANTY FOR YOUR SERVICES?
A. Yes. We assure you that once we have repaired your appliance, we will offer you a 12-month warranty on the parts we will use for repair and labor as well. This warranty gives you a right to ask for our services again if the problem with your appliance persists.
Q. DO YOU FIX APPLIANCES DURING YOUR FIRST VISITS?
A. Yes. When we visit your home, we will get into the problem and repair it with immediate effect. This is because we often carry all common parts for repair.
Q. ARE YOUR APPOINTMENTS SCHEDULED?
A. Yes. All our appointments are scheduled according to the time you have called to ask for repair. We also ask you to give us a maximum of 3 hours to get to your place.
Q. IS THERE A LIST OF ALL THE APPLIANCES THAT YOU FIX?
A. Yes. We have a list of the entire brand appliances that we fix at Chico Appliance Repair Company even though we fix almost all household appliances.
FIND YOUR BRAND BELOW:
Amana, Armstrong, Bryant, Caloric, Carrier, Century, Crosley, D&M, Electrolux, Fedders, Frigidaire, G.E., Gibson, Glenwood, Goodman, Hardwick, JC Penney, Jenn-Air, Kelvinator, Kenmore, Kitchen-Aid, L-G, Lennox, Luxaire, Magic Chef, Maytag, Norge, RCA, Roper, Rheem, Rudd, Samsung, Sears, Signature, Sub-Zero, Tappan, Whirlpool, Williamson, York & More!
GE APPLIANCE REPAIR
GE Appliances is a popular appliance manufacturer in Louisville, Kentucky. The manufacturer is overseen by Haier. GE is a really big brand when it comes to home appliances. The global brand has many product lines, including Monogram, Haier, Hotpoint and Cafe. We see a lot of GE appliances each week. We offer standard GE repair services in Chico, California. These repair services include GE refrigerator repair, GE washer repair, GE dryer repair and GE dishwasher repair. Call Chico Appliance Repair for GE appliance repair in Chico. Read more about GE Appliance Repair.
SAMSUNG APPLIANCE REPAIR
Samsung and Samsung Electronics is an appliance manufacturer based out of South Korea. Samsung is famous for high-quality products for homes and businesses. This includes their residential line of appliances. Samsung manufacturers refrigerators, top- and front-load washers and dryers, dishwashers, ovens and more. Chico Appliance Repair provides a multitude of Samsung repair services in Chico, CA. These repair services include Samsung washing machine repair, Samsung refrigerator repair, Samsung dryer repair and Samsung dishwasher repair. Call ASAP for Samsung appliance repair in Chico. Learn more about Samsung Appliance Repair.
MAYTAG APPLIANCE REPAIR
The Maytag Corporation is an American home and commercial major appliance brand and manufacturer. The brand is owned by Whirlpool Corporation based out of Michigan. The company has a proven history of manufacturing dependable and affordable home appliances. Their models include front- and top-loading washing machines and dryers, refrigerators and dishwashers and compactors. We are available for Maytag repair in Chico, CA. Our services include Maytag washer repair, Maytag dryer repair, Maytag refrigerator repair, Maytag dishwasher repair and more. Call on Chico Appliance Repair for Maytag appliance repair in Chico. Read more about Maytag Appliance Repair.
WHIRLPOOL APPLIANCE REPAIR
The Whirlpool Corporation is a manufacturer of home appliances. Whirlpool is the top manufacturer of home appliances across the globe. The corporation oversees nine manufacturing factories in the United States. The corporation owns Maytag, Whirlpool, KitchenAid, Jenn-Air and Amana appliance brands. Whirlpool and their family of brands sell refrigerators, ovens, washers, dryers and more. We can repair every model and brand from Whirlpool for homeowners in Chico, CA. These Whirlpool repair services include Whirlpool washer repair, Whirlpool dryer repair Whirlpool dishwasher repair, Whirlpool refrigerator repair and more. Count on Chico Appliance Repair for Whirlpool appliance repair Chico. Learn more about Whirlpool Appliance Repair.
LG APPLIANCE REPAIR
LG, LG Corporation and LG Electronics are based out of South Korea. LG manufacturers home electronics, mobile communication devices, and residential appliances. LG is a higher-end brand of home appliances for homes with a larger budget. Not every appliance repair service in Chico offers LG appliance repair because to this. However, we do! Chico Appliance Repair specializes in LG refrigerator repair, LG washer repair, LG washing machine repair, LG dryer repair and more. Call right away for LG appliance repair in Chico.
KENMORE APPLIANCE REPAIR
Kenmore is a brand of residential appliances from Sears. The appliances are manufactured by Electrolux, Panasonic and Whirlpool. Families can purchase Kenmore refrigerators, dishwashers,ovens, washers,washers, ovens and dryers from Sears retail locations and website. We perform Kenmore repair services in Chico. Call for Kenmore dryer repair, Kenmore washer repair, and Kenmore refrigerator repair. Chico Appliance Repair is the #1 company to call for Kenmore appliance repair Chico. Read more about Kenmore Appliance Repair.
APPLIANCE REPAIR CHICO CA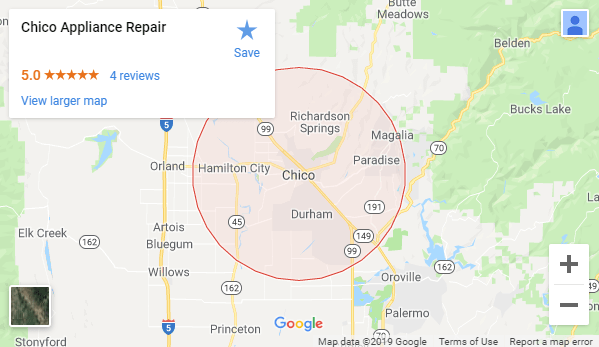 CHICO APPLIANCE REPAIR
PHONE: 530-531-8673
LOCATION: CHICO, CA
Located in Chico. We serve several cities in the area. Service area includes: Barber, Hamilton City, Nord, Roble and more!
SERVING ALL OF CHICO, CALIFORNIA
95926 95928 95929 95973 95976